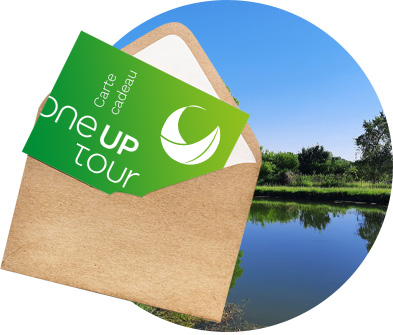 Introduce your friends and family to ONE UP TOUR!
We have several different gift cards for you:
Gift card for one person:
— Meet a winegrower: €70
— Any other two-hour Adventure starting from Chablis: €55
Gift card for two people:
— Meet a winegrower: €140
— Any other two-hour Adventure starting from Chablis: €110
AMOUNT
Our gift cards are not registered to a particular name: you can give them to anyone you choose.
USE
The holder can exchange the gift card for one (or more) Adventure(s) of their choice. It can be used once, up to the limit of its value.
The holder is invited to contact ONE UP TOUR by email or by telephone to organise a date for their chosen Adventure.
If the holder would like to use their gift card with other people, they can book additional Adventures on the website. The additional fee will be payable on the day using one of the other payment methods accepted by ONE UP TOUR.
VALIDITY
Gift cards are valid for one year from the date of purchase. They are only valid for a ONE UP TOUR Adventure. The holder must contact ONE UP TOUR at least one week in advance to book the Adventure.
COMPENSATION
Gift cards cannot be exchanged for any form of monetary compensation whatsoever, whether in full or in part, in cash or by bank transfer or deposit. Discounts will not be granted.