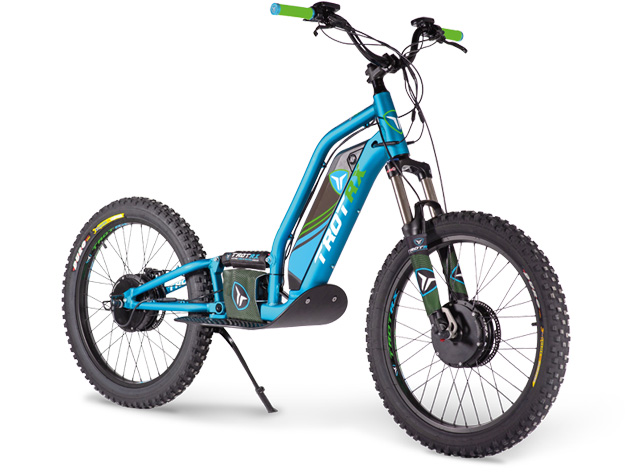 We are the proud owners of 20 of the latest electric scooters from TROTRX, a company founded by Mr Christian Taillefer, dubbed the "living legend of French mountain biking" by the cycling world.
The scooters were designed, developed and assembled in Saint Didier, in the South of France.
Electric scooters were originally designed for use in the mountains in the summer months but can now be found in all kinds of environments. Whether you're interested in exploring the area, having some fun, or enjoying a quirky, cultural and/or sporting activity, this outdoor adventure is just what you need. Easy to use and eco-friendly, the whole family will love this cross between a mountain bike and a scooter.
— Can be used by anyone
— Electric battery encased in the scooter
— Maximum speed of 25 km/h (15 mph)
— Effortless
Try it: you'll love it!
Technical info on the new model with an integrated battery
Reinforced aluminium frame welded by hand with gas tungsten arc welding (GTAW) sporting an anodised blue finish
TROTRX has always used a special anodisation process for the frames rather than painting them. This makes them more resistant to impact and extends their lifespan. The colour does not fade over time or with exposure to the sun.
Integrated next-generation battery for more power and a longer range
Lithium-ion batteries (48v 25Ah) designed with the latest cells.
Equipped with 24'' wheels with reinforced DURO 24×3.00 tyres for greater stability
The 24" wheels adhere brilliantly in all circumstances, even on more challenging terrain and in rocky areas.
Two-wheel drive model (2×2)
This version is fitted with two 500W motors and is perfect for hilly or mountainous areas and sandy, snowy or muddy terrain, for example.
The 20" and 24'' versions have the same components and size of frame
All that changes is the size of the wheels. The deck is 6 cm closer to the ground on the 20" version than on the 24" version. The distance between the deck and the handlebars is the same.
The new TROTRX frame size has been extended by 25 mm compared with the scooters which had a battery stored in a backpack. This increases its stability on challenging terrain and during descents.
Choice of three handlebar heights:
— 80 mm for people measuring 1.5 m (4.9 ft) or under
— 130 mm for people measuring between 1.5 m (4.9 ft) and 1.85 m (6 ft)
— 180 mm for people measuring over 1.85 m (6 ft)

New versatile deck
The deck has also been redesigned. It is now wider at the rear, making it more user-friendly and enabling you to shift more of your weight backwards during descents.
All the components used to make the scooters have been manufactured or selected for their quality and longevity
They are designed to have a long life and withstand many years of intensive use.

Quick assembly & disassembly of the rear wheel
TROTRX added this development a few years ago to make it easier to remove the rear wheel with a 6 mm Allen key. What's more, the rear wheel will align automatically.
Several add-on accessories are available
You can equip your scooter with a front or rear mudguard, handlebar bags and top-tube bags, etc.
You can also install our reinforced baggage holder so you can attach a top box, crate or panniers.

Specs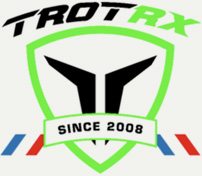 Frame
Reinforced GTAW aluminium with an anodised blue finish.
Fork
SUNTOUR XCR 32 QR9 TAPER 120
Shock absorber
DNM 200 x 60
Brakes
BENGAL HYDRAULIC 180 mm
Handlebars
Aluminium h. 130 mm x l. 780 mm
Stem
Aluminium 60 mm
Headset
FSA bearing
Rims
TROTRX™ reinforced double wall 36T
Tyres
DURO 24 x 3.00
Motors
2 x 500W
Controllers
2 x 25Ah
Integrated battery
Latest-generation lithium-ion 48V 17.5Ah or 48V 25Ah
Charger
5Ah
Speed
Limited to 25 km/h (15 mph) for use on public roads.